Description

KL1-0.8-70 Stationary anode X-Ray Tube is especially designed for intra-oral dental x-ray unit and available for a nominal tube voltage with self-rectified circuit. KL1-0.8-70 tube has one focus. The integrated high quality tube with glass design has one super imposed focal spot and a reinforced anode. The high anode heat storage capacity ensures a wide range of applications for intra-oral dental application. A special designed anode enables an elevated heat dissipation rate which leads to a higher patient throughput and a longer product life. A constant high dose yield during the entire tube life is ensured by the high density tungsten target. Ease of integration into system products is facilitated by extensive technical support.

Technical data
| | |
| --- | --- |
| Nominal Tube Voltage | 70kV |
| Nominal Inverse Voltage | 85kV |
| Nominal Focal Spot | 0.8 (IEC60336/1993) |
| Max. Anode Heat content | 7000J |
| Max. Current Continuous Service | 2mA x 70kV |
| Max. Anode Cooling Rate | 140W |
| Target Angle | 19° |
| Filament Characteristics | 1.8 – 2.2A, 2.4 – 3.3V |
| Permanent Filtration | Min. 0.6mm Al / 50 kV(IEC60522/1999) |
| Target Material | Tungsten |
| Nominal Anode Input Power | 840W |
Elevated anode heat storage capacity and cooling Constant high dose yield Excellent lifetime

Applications

KL1-0.8-70 Stationary anode X-Ray Tube is especially designed for intra-oral dental x-ray unit and available for a nominal tube voltage with self-rectified circuit.

Detailed Images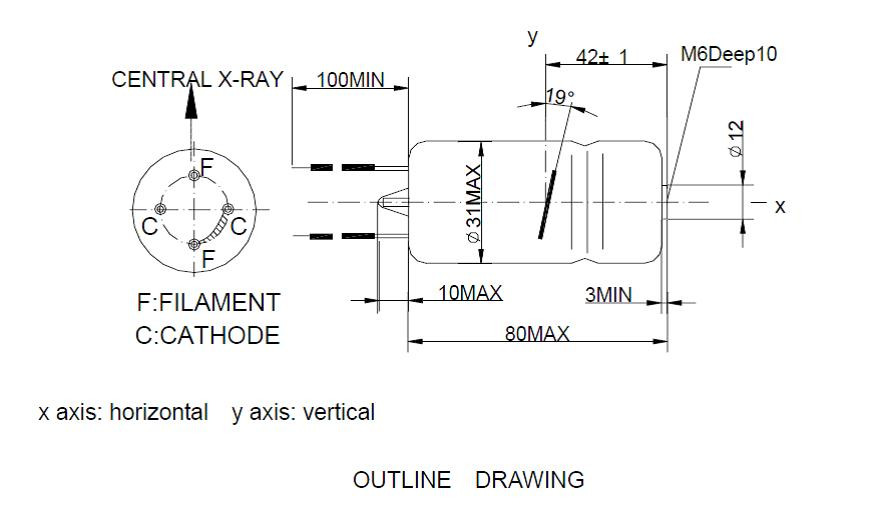 Cautions

Read the cautions before using the tube

 

X-ray tube will emit X

–

ray when it is energized with high voltage, Special knowledge should be required and cautions need to be taken when handling it

。

1. 

Only a qualified specialist with X-Ray tube knowledge should assemble

,

maintain and remove the tube

。

2. 

Sufficient care should be taken to avoid strong impact and vibration to the tube because  it is made of fragile glass

。

3. 

Radiation protection of the tube unit must be sufficiently taken

。

4. 

The minimum sorce-skin distance (SSD) and the minimum filtration should match the regulation and meet the standard

。

5. 

The system should have proper overload protection circuit

,

the tube may be damaged due to only one overload operation

。

6. 

When any abnormalities are found during operation

,

immediately switch off the power supply and contact the service engineer

。

7. 

if the tube is with a lead shield

,

to dispose of lead shield must meet government regulations

。

Competitive Advantage

Competitive Advantage

Prior to usage, season the tube in accordance with the seasoning schedule given below until the required tube voltage is attained. Example given – needs to revise by the manufacturer and specified in the data sheet of the part: Initial incoming seasoning and seasoning schedule for idle period (more than6months)Circuit:
When the tube current is unstable in seasoning, immediately switch off the tube voltage and after an interval of 5 minutes or more, increase the tube voltage gradually from the low voltage while making sure that the tube current is stable. The withstand voltage performance of the tube unit will be lowered as the exposure time and the number of operation increase. Stain-like impact traces might appear on the x-ray tube target surface by slight discharge in the course of the seasoning. These phenomena are one process to recover the withstanding voltage performance at that time. Therefore, if it is in stable operation at the maximum tube voltage of seasoning subsequent to them, the tube unit can be used without any interference to its electrical performance which in use.